To ensure you get the best bands and the best price we have compilled a database of available acts from all over Ireland and the UK, we can arrange your weekly, monthly or yearly entertainment for your venue at no extra cost. We charge the entertainers not the venues, you deal directly with the artists cutting out agency fees altogether
If there is anything further you would like to discuss, or questions you'd like to ask, then we're only a phone call or email away. After all, that's what service is all about – isn't it?
Rest Assured, No matter what your preference for entertainment Live Entertainment provides the answer. We are dedicated to constant improvement in the performance and presentation of our Artistes, aiming always to deliver a Quality Service in an ever changing market place.
Whatever your requirements we can guarantee a fast, efficient service with highly qualified expert advice. In any event, whatever you decide, we hope your function is an outstanding SUCCESS!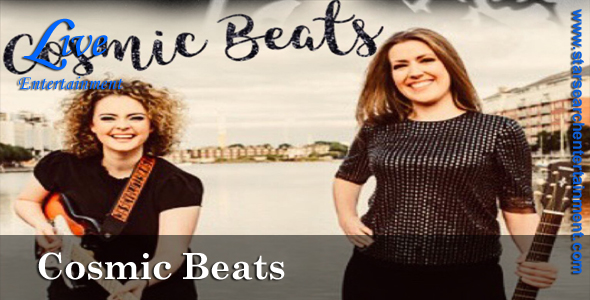 Cosmic Beats is a fabulous two piece band with two female vocalists accompanied by guitars, drum box and tambourine. The duo also provide excellent shows with backing tracks. Performances consist of two hours of non-stop music covering a variety of pop and rock songs from the classic tunes of the fifties to modern day dance floor fillers.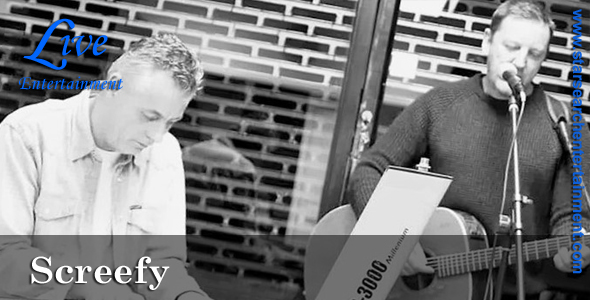 Andy and Kevin have been playing together for the past 5 years as a duo doing Local Pubs and events. We play a varied set covering all genres of Music including: Bob, Dylan, Lou Reed, Tom Waits, Tom Petty, Madness, Pink Floyd, The Cure, The Pogues, The Dubliners etc.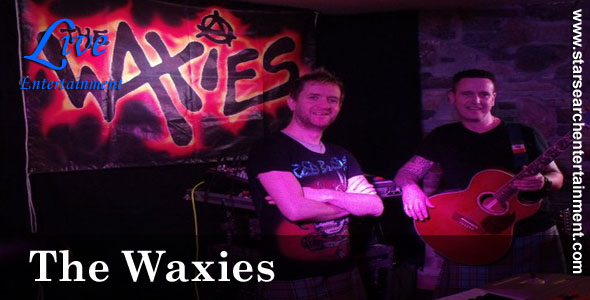 The Waxies... Men in Kilts...are probably Ireland's most loved band who are well known for their varied set and great banter.
Solo Acts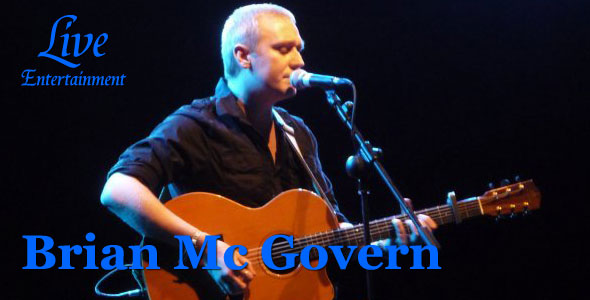 Brian Mc Govern
Brian McGovern is a musician from Kildare. He has spent well over 3,000 hours onstage, received airplay on every major radio station in Ireland, played support slots for and shared a stage with acts as diverse Mundy, Liam O Maonlai, Jack L, Mary Black, Paddy Casey, Neil Hannon, Aslan and Daniel Bedingfield.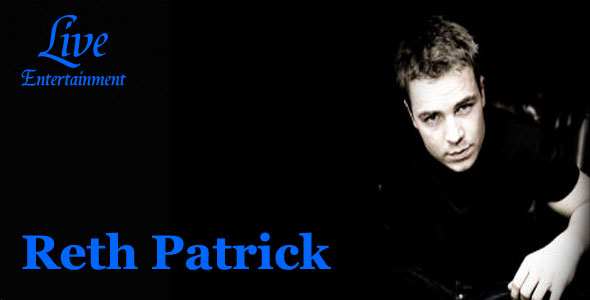 Reth Patrick
Reth Patrick - one man cover act with over 8 years experience, Reth has his own PA (600w) (Vocals & Guitar) and plays popular hits from the 60's/70's/80's/90's/00's.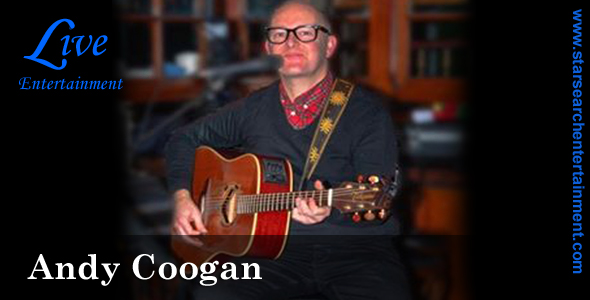 Andy Coogan
Andy Coogan performs a lively solo acoustic show with Over 14 hours of material to choose from. His show is Upbeat with fantastic banter and crowd interaction.
Liam As Robbie

Origin: Uk
Genre: Robbie Williams Tribute
Members: 1
Liam has been performing as Robbie for 10 years and First and foremost is a huge fan of the megastar.

Liam's voice and energy on stage is as close as it gets to the man himself. Liam sings a great mixture of all Robbie's top hits from his First album with songs like 'Old before die' to 'I love my life' from his current album. He throws the odd swing track in too!!
More Details . .
Freddie Mercury 30th Anniversary Tribute Tour

Origin: Dublin
Genre: Freddie Mercury Tribute
Members: 1
Freddie Mercury 30th Anniversary Tribute Tour!

Experience the hyper-realistic sights and sounds of what a Queen concert was like in the early 1980s, filled with all of the many hits, incredible vocals, stories about Queen and the songs, costume changes, and high energy sing along songs that will lift you off your seat!

Available now all over Ireland.
More Details . .
Mamma Mia ABBA Tribute Show

Origin: Meath
Genre: ABBA Tribute
Members: 2-4
Mamma Mia are Ireland's premier Abba act. Having performed all around Ireland and Europe they guarantee to keep your dance floor full and audiences singing along all night.
More Details . .
Baton Rouge - Callin Back Tour

Origin: Fermanagh
Genre: Country, Garth Brooks Tribute
Members: 1
Baton Rouge - Callin' Back is a 2 hour tribute to the king of Country Music Garth Brooks - dates are going fast so book today.
More Details . .
DIVAS Tribute Show

Origin: Northern Ireland
Genre: Tribute Shows
Members: 1
The DIVAS Tribute - Choose 2 acts Between ABBA, Queen-ie, Tina Turner, Shania Twain, Lady Gaga, Stevie Nicks, Madonna, Adele, Pink, Britney Spears or Cher.
More Details . .
Waterloo - ABBA Tribute

Origin: Limerick
Genre: ABBA Tribute
Members: 2-4
Waterloo is an ABBA tribute act that performs all the Golden Hits from Swedish pop Legends ABBA. Formed in 1994, Waterloo performs for every occasion.
More Details . .
Irish Ed Sheeran

Origin: Dublin
Genre: Ed Sheeran
Members: 1
Jamie is Ireland's only Ed Sheeran tribute and has performed all over Ireland and the UK.
More Details . .